There are many pickup truck options for those looking for a workhorse that will be a dependable day in and day out. Ram offers some of the most popular full-size and heavy-duty pickup trucks in Canada. One of those trucks is the 2020 Ram 1500 Classic. The 1500 Classic pickup truck should not be confused with the Dodge Ram 1500.
The Ram 1500 Classic is exactly as its name describes–the classic version of the Ram 1500. When Ram introduced its fully redesigned 1500 in 2019, it decided to keep the previous-generation truck and keep the legacy going–hence, the Ram 1500 Classic name.
What Exactly Is the Ram 1500 Classic
In a phrase, the Ram 1500 Classic is the budget model of the Ram 1500. It features a lower base price than any version of the new model, but it also does not include some of the latest and greatest equipment. For buyers in the market for an affordable utility vehicle who do not mind the lack of bells and whistles, the Ram 1500 Classic is a viable option.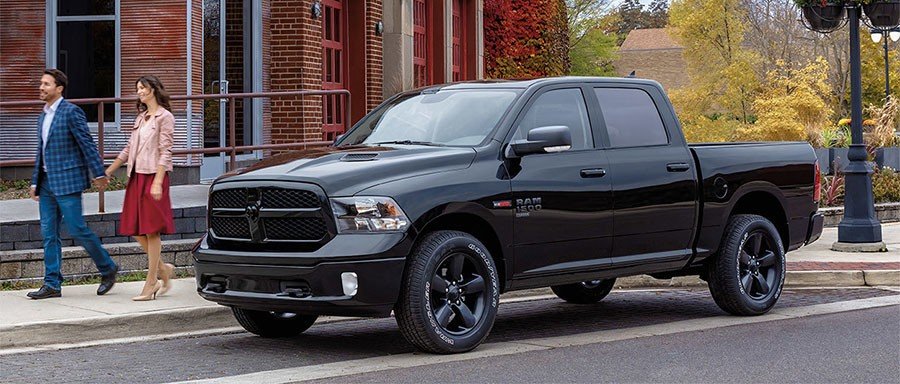 2020 Ram 1500 Classic Models
The 2020 Ram 1500 Classic comes in five model versions: ST, Express, SLT, Night Edition, and Warlock. Every model comes standard with a 3.6-litre Pentastar VVT V6 engine that produces 395 horsepower and 13.9 L/100km city and 9.6 L/100km highway fuel economy.
There is an optional upgrade to a 5.7-litre HEMI VVT V8. 4×2 and 4×4 capability are also available. The 1500 Classic has plenty of capability for those wanting to put it to work–it can tow up to 4,844 kg and haul up to 871 kg.
2020 Ram 1500 Classic Express and Night Edition Review
Two of the 2020 Ram 1500 Classic models stand out from the rest. These are the Express and Night Edition configurations.
The second lowest-priced model, the Ram 1500 Express offers several upgrades over the base ST model for less than a thousand dollars more. It includes the standard features found on all models, such as a back-up camera and electronic stability control, but it also includes fog lamps, remote keyless entry, SiriusXM satellite radio, and 17-inch aluminum wheels.
The second highest-priced model, the Night Edition is more aligned with other offerings in the full-size pickup truck class, including the Ram 1500. The 2020 Dodge Ram 1500 Classic Night Edition starts at $34,609 and includes upgrades such as 20-inch wheels and a Uconnect 4 multimedia centre with an 8.4-inch touchscreen. It also upgrades the exterior styling to a gloss black grille with black inserts.
2020 Ram 1500 Classic in Ontario
The 2020 Dodge Ram 1500 Classic prioritizes practicality and usability over comfort and convenience, but that is not necessarily a bad thing. The 1500 Classic is meant to be available at a lower price to buyers who want a capable, brand-new truck but cannot afford all the upgrades many drivers find necessary. It is a workhorse of a truck, offering exceptional towing and hauling capabilities and day-in and day-out dependability – the only way to go.