As a sign of the times and changing buying habits, Dodge has discontinued two of its models–the Grand Caravan minivan and Journey SUV. In lieu of them, Dodge is introducing the new Durango SRT Hellcat to bring power and performance to the SUV line-up.
The lineup changes occur as Dodge focuses more on performance and a high-quality smaller vehicle lineup instead of being overextended with too many models.
Durango Hellcat Review
The Durango SRT Hellcat gets its name from the supercharged 6.2-litre V-8 Hellcat engine found under its hood, which provides 710 horsepower, 645 lb-ft of torque, and towing capability of almost 4,000 kg. Appropriately named, the Hellcat can go from 0 to 60 miles per hour in a time of 3.5 seconds.
These under-the-hood stats make the Durango Hellcat a driver's car, and the interior reflects that as well. The dashboard layout is similar to Dodge's other performance cars–the Charger and Challenger. There is a flat-bottomed steering wheel with paddle shifters, red accents throughout the cabin, and high-quality materials used throughout.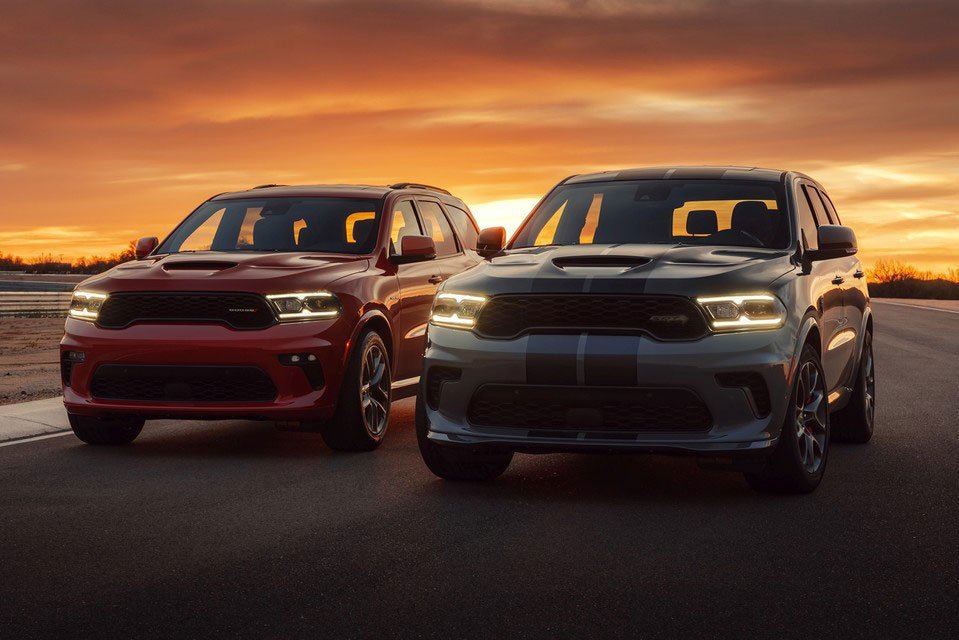 Dodge included the latest Uconnect 5 Uconnect 5 multimedia centre in the Durango Hellcat, complete with a large 10.1-inch touchscreen that includes Apple CarPlay, Android Auto, Wi-Fi hotspot, and Amazon Alexa functionality.
Beyond the performance piece, the Durango Hellcat is also great for hauling cargo or passengers–the third-row seats provide plenty of legroom when in use or cargo space when folded flat.
Grand Caravan and Journey Discontinued
With the Grand Caravan and Journey discontinued, Dodge eliminates 40% of its model lineup. However, this change is not surprising or unwelcome. While these models were popular when first introduced, neither had received major updates or upgrades since 2008, making them seriously out-of-date. Their inability to keep up with other more stylish choices resulted in decreasing sales and then total elimination.
But these changes are good things. With fewer models, Dodge can pour more innovation into the remaining vehicles, including new and innovative designs such as the Durango Hellcat. For drivers wanting an SUV with intense power and performance, the Hellcat is the only way to go.